The Del Oro presentation, "Finding Hope, Humor, & Heart in Caregiving" by Elaine Sanchez.
ApexCare was a proud vendor at the Del Oro presentation, "Finding Hope, Humor, & Heart in Caregiving" by Elaine Sanchez. Today's workshop was extremely well-attended with over 100 family caregivers participating at the event and was held in Citrus Heights at the Community Center.
Elaine's presentation was an inspiring and informative presentation featuring real-life stories and strategies for coping with the emotional stress of caregiving. Her presentation provided the attendees with specific strategies to deal with a number of common family caregiving challenges including the following:
1. Coping with Caregiver Anger and Guilt

2. Dealing with Caregiver Depression and Grief

3. Understanding and responding to Dementia-Related Challenging Behaviors, Including Surprising and Inappropriate Sexual Behavior

4. Developing a Plan for Self-Care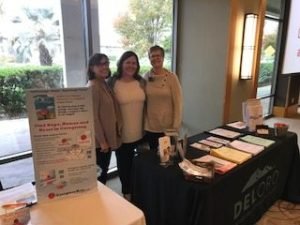 Listening to the presentation was a very direct reminder of the challenges of being a family caregiver. Family caregivers provide an invaluable service that is often underappreciated and unrecognized. Elaine's caregiver survival tips and suggestions will undoubtedly help all family caregivers cope with the daily frustrations, challenges, and emotions of caring for a loved one.
Elaine is the author, speaker, and co-founder of caregiverhelp.com and is a recognized expert in the field of caregiving. She is also the author of the unflinchingly honest and uproariously funny book,
"Letters from Madelyn, Chronicles of a Caregiver".
Del Oro Caregiver Resource Center is an independent, private, non-profit program funded by the Department of Health Care Services, Area 4 Agency on Aging, grants and private donations. Del Oro's mission is to improve the well-being of family caregivers and provide support throughout the caregiving process. Del Oro provides a variety of services to help support caregivers and achieve our mission.
ApexCare®.  –  Call Today 877-916-9111
I first became aware of the devastating effects of Alzheimer's disease ten years ago when my grandmother was diagnosed with this disease.I saw firsthand how critical it was to have a loving family or caregiver to ensure my grandmother's safety and daily well-being.My grandmother was fortunate enough to have close family members who cared for her as her Alzheimer's disease progressed.

Since then, I have had a strong interest in helping and supporting our senior community as they age and are unable to care for themselves.Coming from a family of physicians, I am excited to be involved in the medical community by providing the highest levels of non-clinical in-home care to our clients and their families.With my work experience, I firmly believe that ApexCare can touch many lives and have a great impact on our local senior community.

Prior to joining ApexCare, I worked in a wide variety of industries and have owned multiple businesses ranging from construction to mortgage banking.Outside of work, I am an active youth soccer and basketball coach, having coached recreational soccer for over 8 years and elementary school basketball for over 4 years.I graduated with a BS in Economics from the Wharton School at the University of Pennsylvania and received a Masters of Management degree from the Kellogg Graduate School of Management at Northwestern University.My career has been focused on building great organizations that deliver the highest absolute levels of service to our clients.I look forward to continuing this passion with ApexCare.
Latest posts by Jason Wu, President (see all)