11th Annual Fab 40's 5K Run/Walk Fundraiser
ApexCare was honored to participate in the 11th Annual Fab 40's 5k Run/Walk fundraiser benefitting the Alzheimer's Association, in the beautiful East Lawn Memorial Park in East Sacramento on Saturday, July 28, 2018.
It was a beautiful morning for a run and to support a good cause. The Race registration started at 7 am in the morning with the kid's ¼ mile walk for ages six and under starting at 8:05 am and the ages seven through ten group walking a ½ mile began at 8:10 am. Finally, the adults came in full spirit with diversity either wearing fun and spirited outfits or just regular running gear or bringing their furry dog friends with them!
The course itself is very scenic and starts at East Lawn Memorial Park and then continues on in the beautiful fabulous 40's neighborhood between 43rd and M Street before finally returning to East Lawn Park. The race finishes at what happens to be the highest elevation point in the city of Sacramento. Racers received a custom race day t-shirt, enjoyed refreshments post-race and were able to enjoy energizing music, earn awards, random prizes, and received their digital race time. Sponsors had tables full of information about their services and organizations that provided many good resources to the community at large.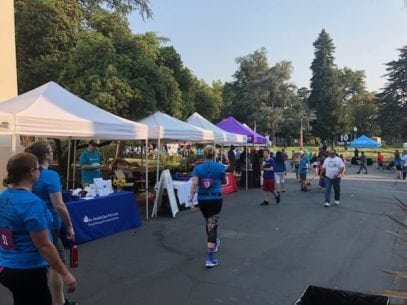 The awards ceremony that followed the event had prizes for overall winners and top three finishers in each age division. All kids in the Kids' Fun Runs received a medal and the first place boy and girl in each race received plaques.
We are proud to be one of the events on the Buzz Oates RunSac Race 5k Series. There is also a Buzz Oates award given out each year in his honor and a special trophy and $100 Amazon gift card is awarded to the person who finishes exactly in the middle of the pack.
If you would like more information about the Fab 40s Walk please visit their website at http://fab40s5k.org/.
I first became aware of the devastating effects of Alzheimer's disease ten years ago when my grandmother was diagnosed with this disease.I saw firsthand how critical it was to have a loving family or caregiver to ensure my grandmother's safety and daily well-being.My grandmother was fortunate enough to have close family members who cared for her as her Alzheimer's disease progressed.

Since then, I have had a strong interest in helping and supporting our senior community as they age and are unable to care for themselves.Coming from a family of physicians, I am excited to be involved in the medical community by providing the highest levels of non-clinical in-home care to our clients and their families.With my work experience, I firmly believe that ApexCare can touch many lives and have a great impact on our local senior community.

Prior to joining ApexCare, I worked in a wide variety of industries and have owned multiple businesses ranging from construction to mortgage banking.Outside of work, I am an active youth soccer and basketball coach, having coached recreational soccer for over 8 years and elementary school basketball for over 4 years.I graduated with a BS in Economics from the Wharton School at the University of Pennsylvania and received a Masters of Management degree from the Kellogg Graduate School of Management at Northwestern University.My career has been focused on building great organizations that deliver the highest absolute levels of service to our clients.I look forward to continuing this passion with ApexCare.
Latest posts by Jason Wu, President (see all)