Reminder: Alzheimer's Association Memory Loss Conference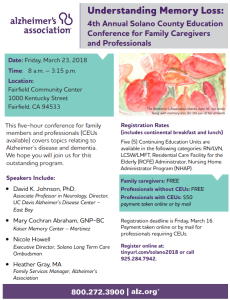 ApexCare is proud to be a supporter and sponsor of an upcoming Alzheimer's Association (AA) conference. We wanted to remind you again that the AA is holding its 4th Annual Solano County Education Conference for Family Caregivers and Professionals.
This is a five-hour conference that will cover topics relating to Alzheimer's disease and dementia. Five Continuing Education Units (CEU's) are available to RN/LVN's, Residential Care Facility for the Elderly (RCFE) administrators, and Nursing Home administrators (NHAP).
Date: Friday, March 23, 2018
Time: 8AM – 3:15PM
Location: Fairfield Community Center, 1000 Kentuck Street, Fairfield, CA 94533
This event is free for family caregivers and professionals who do not need CEU's. If you are looking for CEU credits, then the cost is $50. Please see attached flyer for registration and speaker details. The registration deadline is Friday, March 16th.
For more details please click here: Alzheimer's Association Conference

For More Agenda Information please click here:  Agenda
ApexCare Home Care Stockton and Sacramento ~ Call Toll-Free: 877-916-9111
I first became aware of the devastating effects of Alzheimer's disease ten years ago when my grandmother was diagnosed with this disease.I saw firsthand how critical it was to have a loving family or caregiver to ensure my grandmother's safety and daily well-being.My grandmother was fortunate enough to have close family members who cared for her as her Alzheimer's disease progressed.

Since then, I have had a strong interest in helping and supporting our senior community as they age and are unable to care for themselves.Coming from a family of physicians, I am excited to be involved in the medical community by providing the highest levels of non-clinical in-home care to our clients and their families.With my work experience, I firmly believe that ApexCare can touch many lives and have a great impact on our local senior community.

Prior to joining ApexCare, I worked in a wide variety of industries and have owned multiple businesses ranging from construction to mortgage banking.Outside of work, I am an active youth soccer and basketball coach, having coached recreational soccer for over 8 years and elementary school basketball for over 4 years.I graduated with a BS in Economics from the Wharton School at the University of Pennsylvania and received a Masters of Management degree from the Kellogg Graduate School of Management at Northwestern University.My career has been focused on building great organizations that deliver the highest absolute levels of service to our clients.I look forward to continuing this passion with ApexCare.
Latest posts by Jason Wu, President (see all)