37th Annual Mental Health and Aging Conference
ApexCare was pleased to be a sponsor of this year's 37th Annual Mental Health and Aging Conference.
The Conference was held on Wednesday, November 8th at the Sacramento Marriott Hotel in Rancho Cordova. This conference is focused on wellness and resources for those who are aging and/or may be suffering from mental illness.
This year's theme was very uplifting and was aimed at solutions to,
"LIVE YOUR BEST LIFE".
To give some background on the conference it is important to know that the Mental Health Board Older Adult Committee held the first conference in 1981 to bring to light to the community at large about the older adults and mental health issues and to advocate for services to meet the needs of these populations. The conference became an annual tradition and from what I understand since it was our first year attending gets better each year. The event this year was SOLD OUT!
The conference had many companies, as well as non-profit and Sacramento county, sponsors from the Sacramento and surrounding area to provide mental health & aging resources to the community. The people who attended the conference surprisingly were not just from Sacramento but came from various places throughout the state and the conference was well worth the trip!
Not only were there community resources, presentations and great food but we also got to see the conference kick off by watching actors from Erasing the Distance give performances based on actual individual real stories of people living with some type of mental disorder whether it be Post Traumatic Stress, depression or some other related disorder. Erasing the Distance is based in Chicago and was founded in 2005 as a non-profit arts organization that uses the power of performance to de-stigmatize and promote healing for those who are living with mental health issues.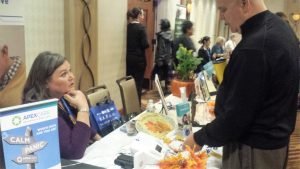 The keynote speakers this year were phenomenal and included presentations from Dr. Ladson Hinton, M.D. regarding Brain Health and Connections to Mental Health. Dr. Hinton who is a clinician-researcher and is the Director of Geriatric Psychiatry in the Department of Psychiatry and Behavioral Sciences at UC Davis Medical Center provided a wealth of information on Alzheimer's and how to promote brain health by getting adequate sleep, exercise, taking care of our heart health and various other factors that increase our risk for the disease including ethnic backgrounds.
Dr. Robin Zasio, Psy.D., LSCW, and owner of the Anxiety Treatment Center also presented at the conference and her topic was Anxiety Disorders and Evidence-Based Strategies that work. Dr. Zasio reviewed many disorders with the conference attendees but to name just a few that she spoke about included Obsessive Compulsive Disorder, Body Dysmorphic Disorder, Generalized Anxiety Disorder & Trichotillomania. Dr. Zasio also had copies of her book "Hoarder In You: How to Live a Happier, Healthier Uncluttered Life" for sale at the conference. She definitely is an expert in this field as she has been a featured doctor on the A&E hit series, HOARDERS.
If you would like more information on the Sacramento Mental Health and Aging Conference please visit their website at sacmhac.tpcp.org.
ApexCare®.  –  Call Today 877-916-9111
I first became aware of the devastating effects of Alzheimer's disease ten years ago when my grandmother was diagnosed with this disease.I saw firsthand how critical it was to have a loving family or caregiver to ensure my grandmother's safety and daily well-being.My grandmother was fortunate enough to have close family members who cared for her as her Alzheimer's disease progressed.

Since then, I have had a strong interest in helping and supporting our senior community as they age and are unable to care for themselves.Coming from a family of physicians, I am excited to be involved in the medical community by providing the highest levels of non-clinical in-home care to our clients and their families.With my work experience, I firmly believe that ApexCare can touch many lives and have a great impact on our local senior community.

Prior to joining ApexCare, I worked in a wide variety of industries and have owned multiple businesses ranging from construction to mortgage banking.Outside of work, I am an active youth soccer and basketball coach, having coached recreational soccer for over 8 years and elementary school basketball for over 4 years.I graduated with a BS in Economics from the Wharton School at the University of Pennsylvania and received a Masters of Management degree from the Kellogg Graduate School of Management at Northwestern University.My career has been focused on building great organizations that deliver the highest absolute levels of service to our clients.I look forward to continuing this passion with ApexCare.
Latest posts by Jason Wu, President (see all)